Hawaii or Big Island is the largest island of the Hawaiian archipelago. Mauna Kea, a dormant volcano, dominates the island at 13,803 feet. The towering peak creates different climate zones. Hilo to the east experiences plenty of rain and Kona exudes a dry, sunny climate.
Most visitors stay in Kona, which offers excellent snorkeling, water sports, sandy beaches, and terrace restaurants. However, exploring outside of Kona offers unique experiences that create lasting memories.
Here are some top things to do and see on the Big Island of Hawaii.
Swim with manta rays
While manta rays are commonly found in warm climates, a diving trip is usually required to see them. Snorkel with giant manta rays on a night tour in Kona. Snorkeling with manta rays is safe. Unlike stingrays, the larger species do not have spines on their tails or teeth in their mouths.
In the 1970s, the Sheraton Kona placed spotlights in the water around its hotel to create an atmosphere. The light attracted plankton, a food source for manta rays. First came the manta rays, then the tourists.
On a snorkeling tour, float on the surface of the water and watch manta rays swim beneath you. The experience is exhilarating and, for some, frightening. The giants have a wingspan of up to 16 feet, allowing them to dwarf people who come to see the underwater ballet.
Visit a coffee farm in Kona
Kona, Hawaii is perhaps best known for its amazing coffee. Once you try it, you could be addicted to it for life. There are numerous coffee farms in Hawaii where you can sample their blends and sample some macadamia nuts.
The coffee is not only available in light, medium and dark roast varieties. Instead, they have enticing flavors like toasted coconut, caramel, vanilla macadamia nut, hazelnut, and white chocolate strawberry. Kona coffee is one of the best Hawaiian souvenirs. The hardest decision is deciding on flavors.
When you visit the Royal Kona Coffee Center, you can tour the working coffee grinder, taste their coffee, and walk through a lava tube.
See Rainbow Falls
All that rain on the east side creates lush scenery and gorgeous waterfalls. When arriving in Hilo by cruise ship, Waiānuenue Falls or Rainbow Falls are popular stops on an island tour.
The 80-foot waterfall gets its name from the numerous rainbows seen as water cascades from the Wailuku River. Visiting early in the day increases your chances of seeing a kaleidoscopic rainbow.
Visit Hawaii Volcanoes National Park
While the Hawaiian Islands have numerous dormant volcanoes, the Big Island has one very active one. Located on the southeastern side of the Big Island, visiting the national park allows visitors to see a living volcano.
Depending on the current activity, you might want to stop by the visitor center to see which zones are open to the public. Plan at least half a day to a full day to explore the park.
If you drive to the end of Chain of Craters Road, you can see the 90-foot tall Hōlei Sea Arch, carved by lava. Around the park, you can walk through a lava tube, hike into Kilauea Iki Crater, and see ancient lava fields formed by previous eruptions. It's a humbling experience through a barren land and shows us the power of Mother Nature.
Snorkel in Kealakekua Bay
Snorkeling in Kealakekua Bay does many things. You will swim among tropical fish, admire the Captain Cook Monument, see sea caves and spinner dolphins may accompany you.
The boat ride to Kealakekua Bay is scenic and offers a chance to see the coastline from the water. Because Hawaii's waters are rich in marine life, you may spot turtles, dolphins, or even whales (in winter).
Kealakekua Bay offers calm waters for snorkeling. Close to the shore, healthy corals combine with colorful fish. On land, the Captain Cook Monument marks the spot where the British explorer lost his life in 1779.
Visit an octopus or seahorse farm
While Hawaii has many farms that produce fruit, nuts, and coffee, it also has two unique farms that visitors can tour. The Kanaloa Octopus Farm is a research facility and during a tour you will learn more about their personalities and how they live.
The interactive experience allows you to feed and touch octopuses. If you don't like touching, be warned; If you put your hands in the water, they can grab you.
Alternatively, visit a family farm that breeds seahorses with a trip to Ocean Rider Seahorse Farm. It has over 25 breeding species, which helps reduce hunting of wild seahorses.
Hike to Akaka Falls
Less than ½ mile away, the hike to Akaka Falls is easy, with a paved trail through a lush forest. The treat for the hike is the sight of Akaka Falls plunging 442 feet into a canyon.
The Looping Trail features two waterfall sightings, Akaka and Kahuna Falls. The latter, however, is mainly shielded by trees. On the trek you will see bamboo thickets, sugar cane and dense vegetation.
To enjoy the falls without shade, plan to visit in the morning. If you go early, you'll also enjoy the hike before temperatures rise.
See St. Benedict's Painted Church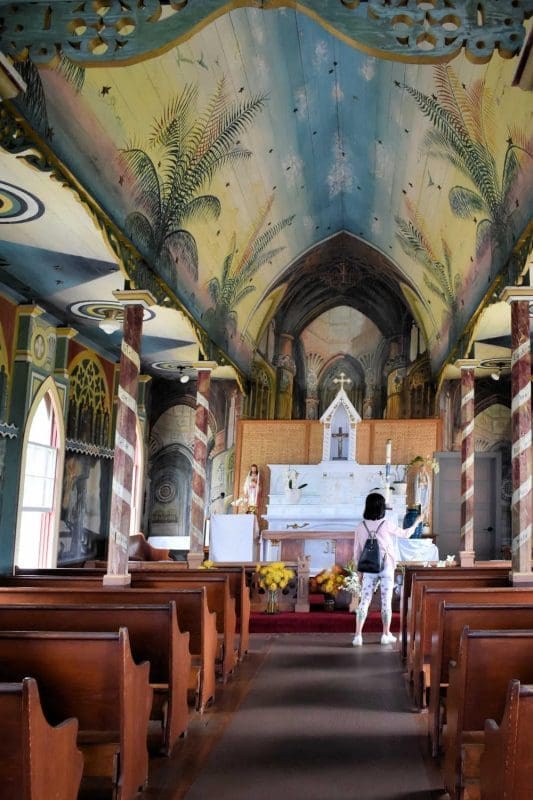 St. Benedict Painted Church, which graces the hillside of southern Kona County, may not appear all that special from the outside. Moved to its current location in 1880, the white exterior is in stark contrast to what you'll find inside.
Father John Berchmans Velghe painted the colorful interior walls. The bright images depicted scenes from the Bible and were used as teaching tools.
The Roman Catholic Church holds five services per week but is open to the public daily.
Visit Pu'uhonua o Honaunau National Historical Park
If you want to learn about the country's history and culture, you must visit the Pu'uhonua o Honaunau National Historical Park. Puʻuhonua o Honaunau is a ceremonial site surrounded by a great wall.
In ancient times, anyone breaking the law sought refuge at the site to avoid punishment. On a self-guided walking tour, see giant ki'i, or wooden images symbolizing the gods protecting deceased chiefs buried in a temple.
Adjacent to the park, Honaunau Bay is a great spot for snorkeling and spotting Hawaiian green sea turtles.
Visit the Hulihe'e Palace
Did you know that Hawaii once had a royal family? The Hulihe'e Palace in Kailua-Kona was used by the royal family as a summer residence. Although small for a royal residence, the palace overlooks the Pacific Ocean.
Once built from lava rock, the building has been clad in stucco giving it a fresh look. Visitors can tour the interiors and admire the koa wood furniture and antique pieces. When visiting Oahu, there are two other palaces to visit, Iolani Palace and Queen Emma Palace.
As you visit these historic sites, you'll learn about the events that ended the rule of the Hawaiian royal family. It's a humbling story.
While Oahu and Maui see the lion's share of visitors to Hawaii, consider a trip to the Big Island instead. This larger island offers a tropical playground with many unique experiences, and how many times can you say you've seen an active volcano?