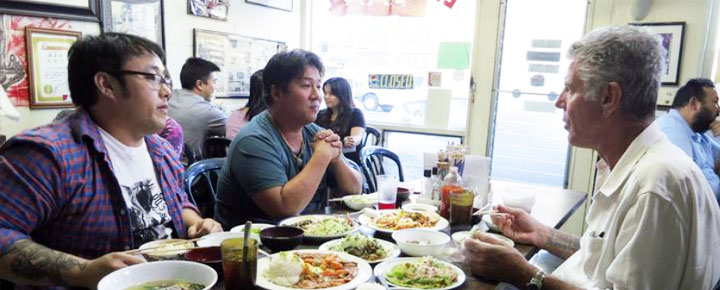 More than four years have passed since the death of the great Hawaii fan Anthony Bourdain. The chef, TV star and author was one of the most renowned and influential chefs and celebrities in the world. Tony visited and reported on Hawaii with great respect, love and admiration, albeit a far cry from his native New York.
Hawaii: It's Main Street America in many ways. It's also insanely delicious, not American at all… People who navigated the Pacific and settled the islands. – Anthony Bourdain.
We all have our own reasons for loving Hawaii, and they vary. Hawaii fan Anthony Bourdain poetically gushed about Hawaii, most famously in his 2015 episode of Anthony Bourdain Parts Unknown, which you can watch below. He previously covered Hawaii in a 2008 episode of his No Reservations show that aired on The Travel Channel. In this episode, he shopped at one of our favorite Honolulu stores, Bailey's Aloha Shirts on Kapahulu Street, ate at Puka Dog, Ono Hawaiian, and enjoyed another BOH restaurant that remains popular to this day, the Side Street Inn. He also shared the experience of his first luau.
Anthony's favorite spot on the islands was Molokai.
It's also a place that is always very dear to your BOH editors. He said of Molokai they are "just the kind of people we need to keep us all from the worst of 'progress'". We need people like that in New York after Bloomberg. Bubba Gump and The Guy Fieri Dome would never have dared to soil my beloved city. In short, paradise."
Molokai: I've been treated with tremendous kindness and generosity everywhere – nowhere more so than on Molokai. My ignorance and naïve prejudices were tolerated with patience and benevolence. This is a Haole who feels very, very honored and grateful for the many kindnesses that have been shown to me. – Anthony Bourdain.
Anthony Bourdain was ahead of his time in many ways. Here in paradise, people like to remember him.
Some of the things that amazed him about Hawaii were seeing humpback whales and, of course, Hawaii's unique food cultures. He hailed it as a place "where a gentleman like me could spend the rest of his years stumping around in a sarong, smoking extravagantly good weed, eating pork in many delicious, delicious forms."
Hawaii: Those of us who weren't born in Hawaii, who don't live there, can hopefully be forgiven for imagining Hawaii as paradise. As such, it was sold to many generations of white men of a certain age: warm, "exotic," adorned with real palm trees and on shirts, populated (the brochures would have you believe) by friendly musicians, brimming with the spirit of aloha and black women who dance a lot. – Anthony Bourdain
He also saw other sides of Hawaii, once pointing out that "young Hawaiians find it almost impossible to find affordable housing in the communities where they were born. Or that traffic gets worse every year… It's not a particularly welcoming or friendly part of the world. As opposed to – so to speak – the 'aloha' myth."
Perhaps prescient, he said, he had "difficulty seeing anything other than crystal clear water, green mountains, and the kind of place we'd like to die." Maybe falling asleep in a hammock, maybe with the sound of ukuleles in the distance. The only immediate sign of death is the shaker full of mai tai falling from our mole-stained hands."
On Hawaiian food, he became poetic about spam musubi, saying, "Mutant cargo cult cuisine getting better? spam noodles? Chicken katsu with potato and macaroni salad?" And of Hawaii's kalua pork cooked in an imu, he said it was "unsurprisingly extra delicious. But it's the beef patty with glossy sauce, the mix of Japanese and American diner, Filipino and Vietnamese food that makes me happiest." He also loved one-plate meals he'd found on Maui.
Bourdain's love for Maui.
"Maui is an island that is as beautiful as it gets. And sure, it has its share of portioned cruise entertainment, morsels handed out and digestible, and free mai tais. But you'll also find sort of a popular institution like Tasty Crust – a place that's as local as you're likely to find it."
This is a Haole who feels very, very honored and grateful for the many kindnesses that have been shown to me. – Anthony Bourdain
Photo courtesy of CNN
Disclosure: We receive a small commission for purchases made through some of the links on Beat of Hawaii. These links cost you nothing and provide revenue necessary to bring our website to you. Mahalo! Privacy Policy and Disclosures.